Bright Steel – A Unit of Bhubaneswar Udyog Pvt. Ltd., 6, Cuttack Road, Bhubaneswar-751006 is a leading trading and distribution house of Iron and Steel materials since 1982. Over a period of time, we have grown into one stop complete solution for Iron and steel materials
We maintain good inventory to cater the requirement of our customers at a short notice to their satisfaction. We deal in long products like TMT Bars, Structurals (i.e. Angle, Channels Joist etc.) Square Bars, Hollow Pipes and Flat Products such as Hot Rolled Coils, Cold Rolled Sheets, MS Plates, GP/GC Sheets and Colour Coated Sheets of primary like TATA STEEL, TATA-BSL, RINL-VSP, SAIL, BHUSHAN POWER & STEEL, APL-APOLLO and other modular's reputed secondary producers. .
We have our Godowns at Bhubaneswar and Rourkela apart from our retail outlet at Cuttack-Puri Road. Our Stockyard is fully modernized with ETO/mobile cranes, adequate stocks to fulfill the requirement of customers with highly experienced technical manpower to cater uninterrupted and timely deliveries. We have installed two CTL lines of latest technology with imported levelers to handle coils of 1.6mm to 20mm along with all infrastructures with a capacity of 7000MT in a single shift. We have also put-up profile line for profiling of Colour Coated Sheets. We also have tie-up with reputed service centers at Rourkela for processing of HR Coils. We have TMT De-Coiling/Cutting/Bending facilities in which we process materials of RINL-VSP.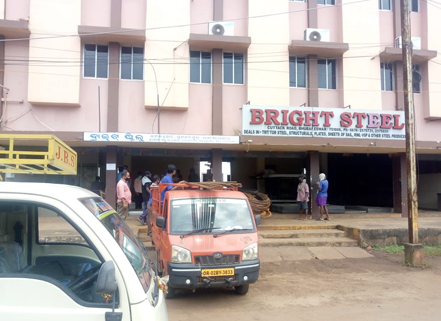 We propose to take bulk orders and ensure timely deliveries. We firmly believe that "togetherness is the key to success". With this motto Bright Steel promises to deliver the finest Quality Products to its customers on time and at competitive prices. Bright Steel also supplies mixed sections in one Trailer/Truck as per the needs of customers all over Odisha as well as India.
We would appreciate your kind co-operation to allow us to prove our credibility by supplying you the products according to your needs for your existing and upcoming projects at a competitive price within stipulated time frame. Kindly contact us for any information/enquires.